Description
I titled this one "A Far Eden" because I live in just such surroundings and consider it heaven.
Suitable for several different genres, from mystery and suspense to western, memoir and literary, even non-fiction.
The title and byline treatment here is just a placeholder. Suggest what font and treatment you want when you contact me with your choice of title, byline, and, if any, subtitle and tagline.  
This image is set at 300dpi.  The eBook cover is sized at 1800px x 2700px.  I also include an Amazon-sized eBook cover, sized to Amazon specs of 1600px x 2560px. An e-reader promotional image is provided for free as a bonus for your use in promoting your eBook. 
Title, byline, and, if any, subtitle and tagline are customizable at no extra charge, including fonts, color, and treatment.

Price includes some limited customization, if desired. Query first about what's possible.
Be sure to send your title, your byline, and any tagline you wish included, along with any other instructions when you purchase the image.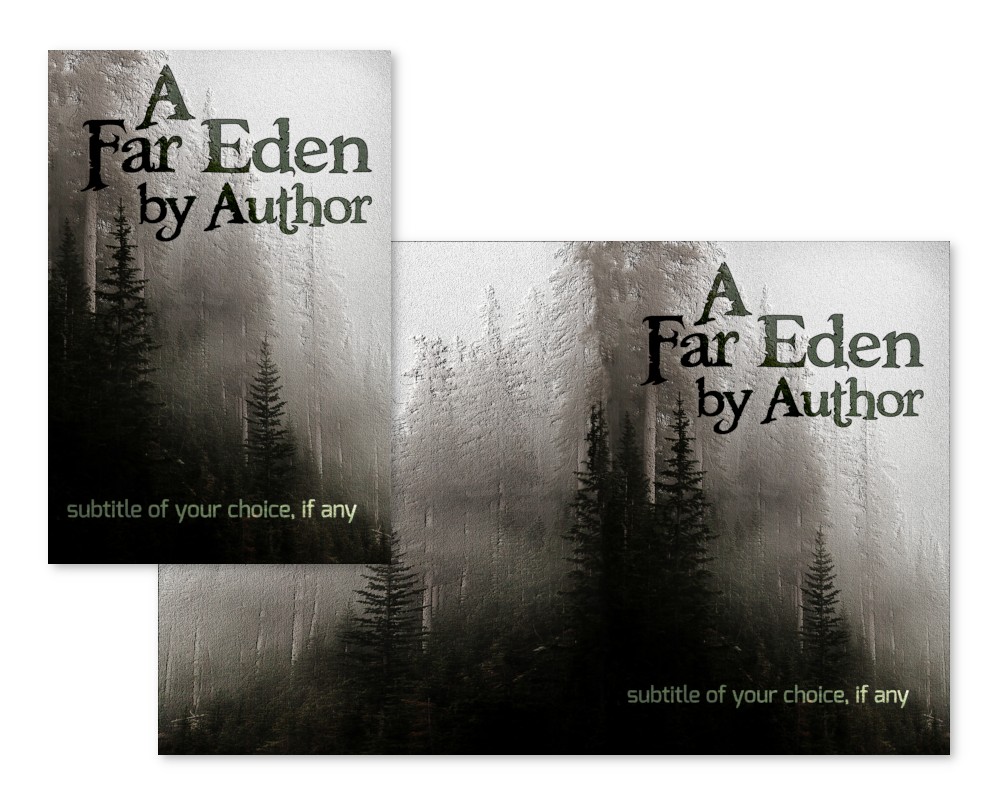 PRINT COVER INCLUDED
The print cover option is included at no extra charge, should you desire it.  It is suitably sized for print books up to 6″ wide x 9″ high book.  If you want the print book cover, as well as the standard eBook, I will need to know your exact final page count, the kind of paper you are choosing, and the size of your finished book (up to 6″x9″). 
BONUS!
With orders that include the print cover, a three quarter view of your book is included for free for your promotional purposes.
Exclusive Use:
This cover is exclusive and will only be sold only once.
When you buy this cover, it is removed from the site.
If you have any questions, feel free to contact me using the product enquiry form provided.
What clients say about me:
"D. L. Keur is a renaissance woman for our times and an accomplished author in her own right. She also channels her considerable talent into designing book-cover art for other authors. Since she created the amazing cover-art for my Jena Halpern novel, Blood-Red Mist, I don't approach new book-cover art without her. She has an innate design sense that brings together all the essential elements into a stunning work of art that grabs readers' attention while telling a story—perfect. A joy to work with, I can't recommend her enough." —Michael Allan Scott, best selling author featured on the NBC Daytime Show, 2019.
"I have a certain look to the books covers I have for my mystery series, but as I finalize my most recent book — women's genre — I needed something very different. I found Dawn Keur, who doesn't do "canned" covers, but brings conceptual design to every project to make them stand out. Best yet? She works well with authors to bring a vague idea into something extraordinary and unique. And she's affordable!" —Laura Belgrave, 2020
"One of the easiest designers to work with I've used yet.  Her work inspires me to write more." —Becky Smith, 2019
"I swear this woman has the patience of a saint.  I didn't know what I wanted, but she kept working with me at no extra charge until she came up with something perfect." —Thomas R., 2019